How to decide how many steps to pledge
Everyone is different, so the number of steps you normally take will vary widely from person to person. The Asthma UK Step Challenge is all about setting your own personal target. This is your challenge. Your way.

Remember, in light of COVID-19, it's important to follow government advice on activity outside of your home. Please check and adhere to current guidelines. Your steps don't have to be taken outside, you can accumalate them in your garden, up the stairs or even on-the-spot in front of the TV. It's your choice!
Steps Calculator
Not sure how many steps to pledge? Don't worry we've got it covered.
Simply choose how many miles, kilometres or hours you'd like to complete per week and move the slider to your chosen amount. We'll do the rest and calculate a suggested number of steps to pledge for the month of October!
How many miles do you want to complete per week?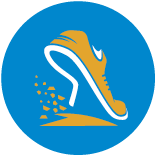 Your suggested pledge total for the month is steps
Help us reach our target of 12 million steps - one step for every person with a lung condition in the UK
Measuring your steps
There are  several  ways for you to track your steps, pick the one that suits you best.
Smartphone apps
Most iPhones and Androids have free health apps installed on them. Alternatively, you can download a free walking or step counting app, there are lots to choose from.
Pedometers and odometers
You could use a basic pedometer to count your steps. These are readily available to buy both  online or in your local sports shop.  If you are taking part in a wheelchair, we recommend purchasing a bicycle odometer.
Tracking sheet
Download our Tracking Sheet to keep a record of your steps and work out your grand total. Why not stick it up on the fridge to show everyone your progress and motivate them to donate!
Ideas on how to get your steps in
There are so many different ways you can increase your step-count, the most important thing is to find a way that suits you, while being safe. Please follow government advice. Here are just a few ideas:
Daily exercise
As long as you follow government advice, there are a number of benefits of taking regular exercise, so put on your trainers and stretch your legs. Remember, you don't have to leave your home if you are unable to, instead you can do laps of your garden, flights of your stairs or good-old fashioned walking on the spot in front of the TV. Where there's a will there's a way!

Put on those dancing shoes
Increasing your steps doesn't have to be restricted to walking. If you're missing your night outs and want some motivational music to help you along, why not video-call your friends and have a virtual night out in your living room?
Netflix and… step
Finding it hard to tear yourself away from the TV? Maybe you don't have to! Whether it's taking a walk around the garden while the ads are on, or walking on the spot while watching, there are lots of ways to avoid missing that all important epoisode.
Mixing it up
The Asthma UK Step Challenge isn't just about walking; we challenge you to make it your challenge. Whether that's walking, jogging, wheeling or skipping, the point is to challenge yourself while fundraising to help stop asthma attacks and cure asthma.